Solo Flamenco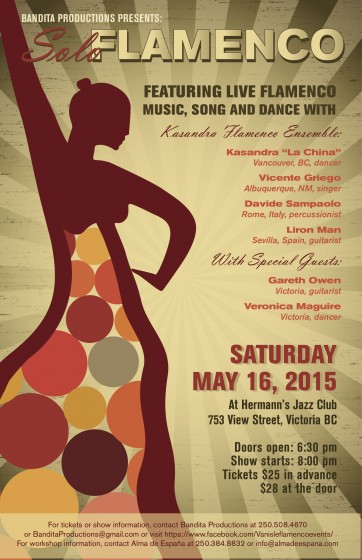 Please plan to attend this fabulous show "Solo Flamenco", featuring live flamenco music, song, and dance with "Kasandra Flamenco Ensemble" (poster attached).  This performance will showcase the talents of Kasandra "La China" (dance), Vicente Griego (song), Davide Sampaolo (percussion), and Liron Man (guitar).  These fine artists will be joined by special guests Veronica Maguire (dance) and Gareth Owen (guitar).
Date/Time: May 16, 2015 at 20:00
Tickets:
Tickets are $25 advance and $28 at the door
For tickets contact Jan at: Banditaproductions@gmail.com or call 250-508-4670
Find info on Facebook.